9. Carbon Management Plan Targets
Further to this report, Ashfield District Council will look to set its Carbon Management Plan targets. This might include setting an interim target year towards carbon neutrality, and addition targets for each emissions category.
In June 2019, the UK government set the UK a target to reduce net greenhouse gases by 100%, relative to 1990 levels by 2050. In April 2021, this was updated to set an interim 78% reduction target by 2035.
Ashfield District Council's emissions baseline is 2015/16, and below are two example graphs indicating the emissions reductions required if adopting these national targets for ADC emissions. These assume equal rates of reduction for all emission categories, though greater emissions reductions in one area may facilitate a slower reduction in other categories (Appendix 6 Target setting tool). Although the focus should be on reducing emissions from their source, where possible, some emissions may require carbon offsetting to reach carbon neutral.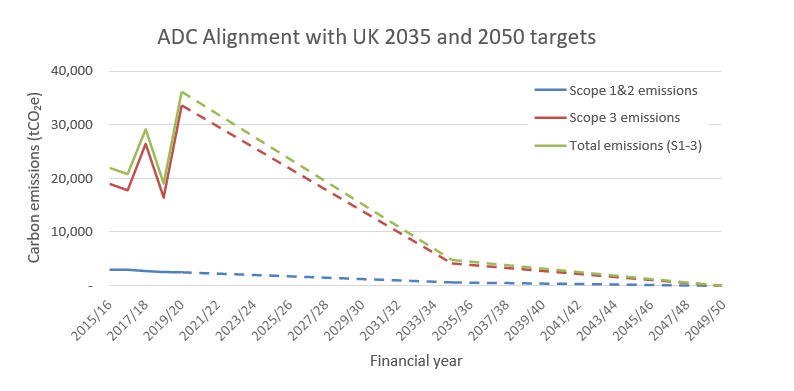 High level short, medium and long term actions to reduce emissions are covered in Section 8, and recommendations for suitable metrics and monitoring are covered in Section 10.
Previous section:
Next section: