Trading at Idlewells
With a variety of units to suit all businesses our indoor market is inside Idlewells Shopping Centre in Sutton in Ashfield. 
It is open 9am to 5pm Monday, Tuesday, Wednesday and Thursday as well as 8.30am to 5pm Friday and  Saturday.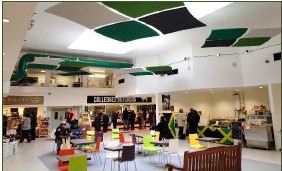 The market has recently had a £1.8 million refurbishment to bring the market and shopping experience into the 21st century. The re-development of the existing Market Hall, which started February 2017, now boasts a new layout, new stalls and a mix of new and existing traders to make Idlewells Indoor Market the place to shop in Ashfield and surrounding areas.
There are a total of 34 stalls are situated around a seating area below a glass atrium. Each stall includes LED lighting, at least 4 power sockets, data sockets and some stalls have water and drainage, ideal for catering operations. The stalls are varied in shape, and sized from 9.96 m2 (113.9 ft2) to 27.38 m2 (294.7 ft2).
We arrange the heating, cleaning and maintenance of the market, which has an intruder alarm and is served by CCTV. The market also has free public Wi-Fi. Traders' toilets are available on site and there is good access for deliveries.
Business opportunities at Idlewells Indoor Market
We are looking for first class caterers, food and non-food retailers to join us at The Idlewells Market to develop the goods and services on offer to shoppers and residents in the area
full time licence agreements are available with business and financial support packages to encourage success for incoming traders. The Idlewells Market is a low cost and low risk opportunity for new and existing businesses alike
we welcome interest from both start-up and established businesses who can demonstrate their value to the market by bringing an under represented product or service line to the market. We are committed to creating long standing partnerships with highly motivated traders to make their business and the market a huge success
talk to us about our "Introduction to market trading" days
if you have a retail idea but don't know where to start, come along for a chat with our friendly team who will guide you through the process of starting a successful retail business.
How much does a unit at Idlewells indoor market cost?
Stall fees start at £5,466 per annum (that's less than £18 per trading day). The stall fees are exempt from VAT. Generous discounts are available for new traders and grants are available to help with stall fit-out costs.
Stalls are let on a licence agreement terminated by 6 months written notice. Traders are not tied in to long agreements, making the market a low risk option.
Apply for an indoor market stall
If you're interested in a stall at Idlewells you make an expression of interest to us online. 
Make an expression of interest
Or you can download the expression of interest form from the documents section and return it to us. We'll take you through the process from there. 
Contact us about trading at Idlewells Indoor Market
You can contact us about trading at Idlewells Indoor Market by: