Lindley's Mill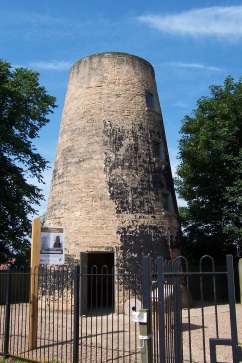 Lindley's Mill is a hidden gem in the centre of Sutton in Ashfield and is one of only two stone built windmills remaining in Nottinghamshire, the other being at Warsop.
The mill was built in the 1820s and is a Grade 2 listed building. Built by James Lindley to replace a post mill that was damaged by a gale in 1818 the mill fell into disuse in the early 1900s. All that remains is the stone tower, which is partly tarred, to help maintain an internal dry atmosphere.
With funding secured from the Heritage Lottery Fund the mill building has been transformed into a small heritage centre. Works have included installing a new roof and weather proofing the building with new windows, as well as a host of activities to engage local people with their heritage.
Sutton Library, Sutton Heritage Society, U3A, Sutton Living Memory group and Sutton Community Academy have all supported the project.
You can find out about nearby car parking on the Sutton in Ashfield car parking page.