Feeding Ashfield
Feeding Ashfield is a network of local organisations working collaboratively with the aim of providing improved access to food and educational opportunities throughout the district. 
Services available
Food banks
There are several Food Banks distributing food parcels within the Ashfield District. Residents typically need a referral to access support from food banks, however local food banks will support you in gaining a referral should you need it.
Find the location and contact details of your nearest food bank on our interactive map.
Food clubs
Food clubs help to reduce food waste by offering residents good quality food at a low cost. You do not need to be referred to a food club as many food clubs are open to all.
You can find out more, including the locations of food clubs in Ashfield on our interactive map.
Social eating opportunities
There are many opportunities across the district for everyone to help combat food waste whilst enjoying a tasty meal together. You may like to volunteer to help with the running of one of these projects, a great opportunity to share your skills whilst also learning from others. Or it might be that you fancy eating good food in the company of others. Either way, you'd be more than welcome at one of the projects outlined on the interactive map.
Schools and community groups
As a network, we are keen to collaborate with schools and other community groups. Whether this be promoting services on offer to families, supporting with setting up food education activities and veg growing areas or facilitating allotment tours.
If you are interested in working together, please get in touch.
Allotments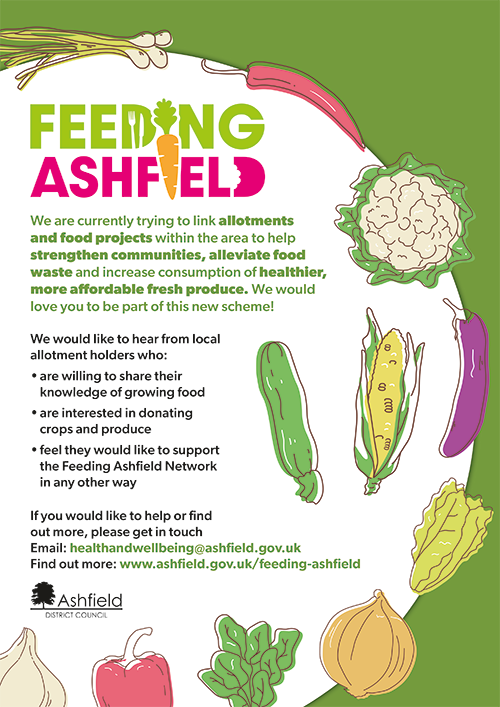 Have you thought about growing your own food. We have 16 allotment sites and there other community run sites throughout Ashfield. Visit the Allotments page to find out more about how to apply for a plot.
How to get involved
If you would like to donate to or volunteer at any of the food banks, food clubs or community allotments, find their locations on the interactive map.
Interactive map
To find the locations of food banks, food clubs or community allotments, use our interactive map.
How to contact us about Feeding Ashfield
If you would like more information about Feeding Ashfield or feel that you may be able to support our work, please contact: