Employee journeys
With a wide range of roles at the council each employees journey is different - here are some stories from our employees about their work with us. 
Andy Willows - Pest Control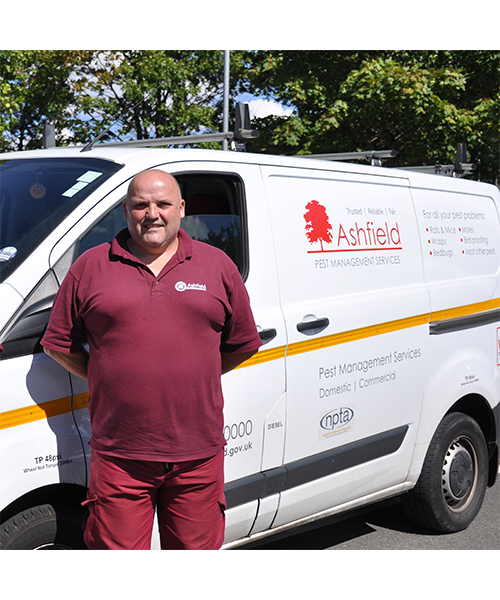 "I have been a pest control officer for Ashfield District Council over 10 years and I do love the job.
"After my initial training, which was paid for by the council, I was chaperoned by an experienced member of staff until I was assessed and it was decided that I was able to work alone.
"I make several visits a day to both domestic and commercial properties. I am fully supported by senior management and line managers, who positively encourage me and praise my performance.
"I work closely with management, administration officers, and transport staff; we are a hardworking, friendly team. We achieve the high standards and goals which we are set, and have received many awards for our commitment.
"Personally, I love the fact that no 2 days are the same; I work by myself and with full support from my colleagues.
"I work in great conditions, my transport and all equipment are provided, and I get paid a good wage for doing a job that I love."
Lindsey Kenworthy - Executive Project Officer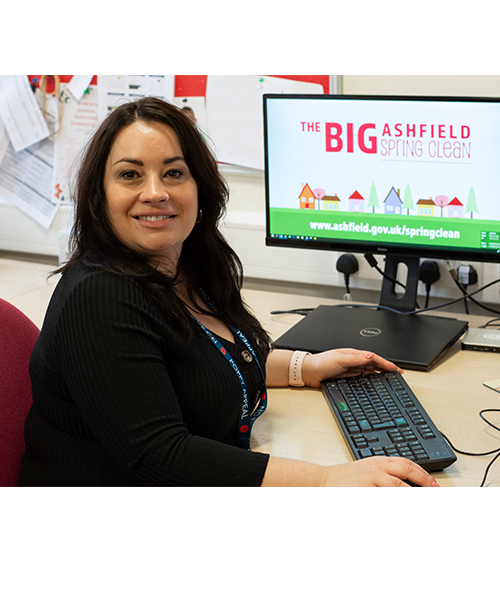 "I must love working for Ashfield District Council as this is my second stint!
"I first tested the waters at Ashfield when I undertook 2 weeks work experience. I then returned a few years later at 17 as an Administrative Assistant within Community Services.
"After 6 years I was given an opportunity to work within the Housing Directorate and I became the Office Manager. Again, I loved my role and did a further three and a half years until I moved into the Private Sector. This was a great experience but then I decided I wanted different things so I applied for a part-time Administration role at Ashfield again and luckily for me I got it and have never looked back!
"After two years I became the Right To Buy Officer and then since May 2019, Executive Project Officer.
"There are many reasons that I love working here: work/life balance, being given opportunities to progress, being responsible for my role, accountability, good holidays, good pension, being local to the area and being able to make a difference in the area I live in.
"Most of all I love the people that work here. There isn't a day that goes by that I don't laugh with someone."
Paul Rowbotham - Waste Operations Manager
"Ashfield District Council offers great opportunities for personal development and training to enhance your career aspirations.
"Although I had a transport background when joining the authority around 30 years ago, I had no knowledge of the waste industry. The support I received enabled me to acquire professional qualifications and develop in my role.
"I now manage around 70 staff delivering a waste collection service to the residents of Ashfield.
"Ashfield District Council is such a prestigious organisation and I am genuinely grateful for what the council has given me.
"I have met some fantastic people and can honestly say that my role has maintained my motivation and enthusiasm throughout, what has undoubtedly been, a busy and ever-changing environment."
Gary Bailey - Waste Advisor
"I started working for Ashfield District Council about 12 years ago.
"I've held a variety of positions through the years including cemetery work, garden work and street cleansing. I have now moved on to working on the waste section as the Waste Advisor.
"I have gained many skills and knowledge along the way and have also made a lot of friends. I really enjoy my job as I get to make a real difference to the community and I like helping residents sort out their problems with their waste."
Lisa Ross - Waste Supervisor
"I have worked for the council for nearly 19 years.
"I started as a Housing Administration Clerk and later moved to Waste Services. I applied for a Team leader position and was offered the job on the condition that I acquired my HGV licence, which the Authority provided the relevant training for.  
"I am responsible for 20 employees and have lots of interaction with the public helping with waste issues. I never imagined that I would one day be working on the bins, but I love my job and the people I work with.
"It's always busy and there's never a dull moment working with such a big team. Over the years I have been given lots of support and training which has allowed me to develop my skills and further my career."
Helen Wright - Environmental Enforcement Officer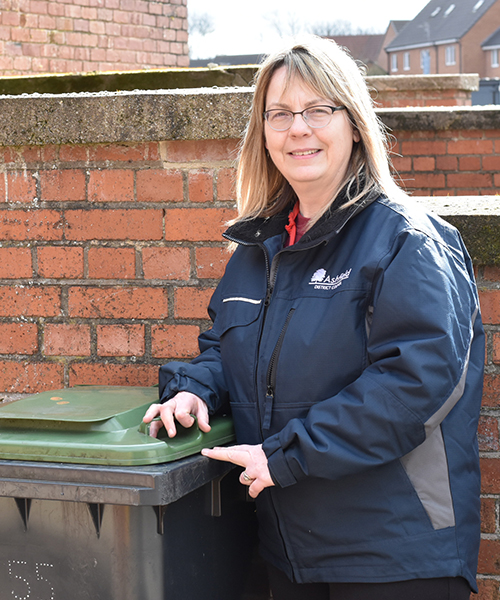 "I have worked for Ashfield District Council for the last 14 years. My current position is Environmental Enforcement Officer within the Waste and Environment section. Whilst at the Council I have also worked in both the Accounts and Revenue section.
"I have enjoyed working for the council over the years; it's a great employer to work for as they aim to get the best out of all their staff. They are very committed to developing their staff in terms of allowing them to progress within their roles. I personally have been given many opportunities with training, education and the experiences that come with different job roles.
"At the Northern Depot we have a great working environment. We all work well as a tight knit team and have a good working relationship. We are a fun bunch who enjoy socialising after work in the local pubs.
Life at the Depot is constantly busy and hectic. Each and every day is different, whether I'm in the office or out in the district investigating fly tipping. I genuinely love the buzz of the fast dynamic environment which we work in."
Stephen Young - Acting Joinery & General Building Team Leader & Transport Ambassador
"Having worked for the council for over 2 years now I have found everyone in the Social Housing Response Team great to work with. I started as the Joinery Charge Hand, and have been offered many opportunities in my short time here.
"I am currently in a role I love as the Acting Joinery and General Building Team Leader. Within this role I get to run a team of Joiners, Window Fitters, Bricklayers and Plasterers, arranging and planning the day to day works required on our circa 7000 homes throughout our district.
"On top of this I get to spend time each day with our tenants as an inspector, dealing with any maintenance concerns that they may have. I particularly like this element of the role as I get to arrange the works, apply the appropriate trade and see the job finished at the end; something I take great pride in.
"I believe we are helping to create decent homes for our tenants to live in and enjoy. I hope to continue in this role and establish myself within the council for many more years to come."